First a household message: In about two weeks time this website should go to new very fast servers. In order for that to work properly I have to do all kinds of things that I have never done before. Stuff like updating PHP. Ok, that does not sound too difficult but as always the work explodes because first I have to backup everything. And before I can backup everyting I need a new ftp account. The only luck is I still have a running ftp client on my own computer…

In case this website is gone in two weeks, somewhere I got lost in the woods. And there is no hurry: this math website is just a hobby of me. An important hobby because it is a bit of exercise for the brain…
End of the household message.
What is the yeast of this post? Historically the de Moivre identity (or theorem) predates the very first exponential circle on the complex plane. If you use the exponential circle, a proof of the de Moivre identity becomes very very easy. In this short post we will use the 3D exponential circle for circular numbers. Two posts back I showed you a possible parametrization via those 3 cosine expressions, in this post we use those parametrizations to formulate a 3D de Moivre identiy.
Because we already have an exponential circle, we do not need to give a rigid math proof for this identity. Once you have and exponential cricle, stuff like that comes for free along with it…
As usual I skipped a lot of things while writing this post. For example I skipped using those modified Dirichlet kernels. I skipped giving the 4D de moivre identity for the 4D complex numbers. All in all I was satisfied to cram this all in a very short post; only three pictures long!
In case you are still reading this while having no clue whatsoever what a de Moivre identiy is, here is some stuff from brilliant.org:
De Moivre's theorem
Http stuff in the link: https://brilliant.org/wiki/de-moivres-theorem/

Ok, only three pictures long. Here we go: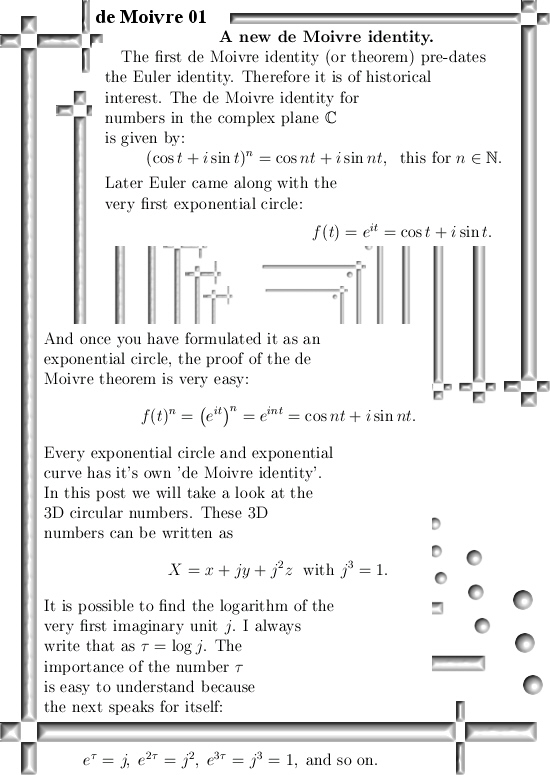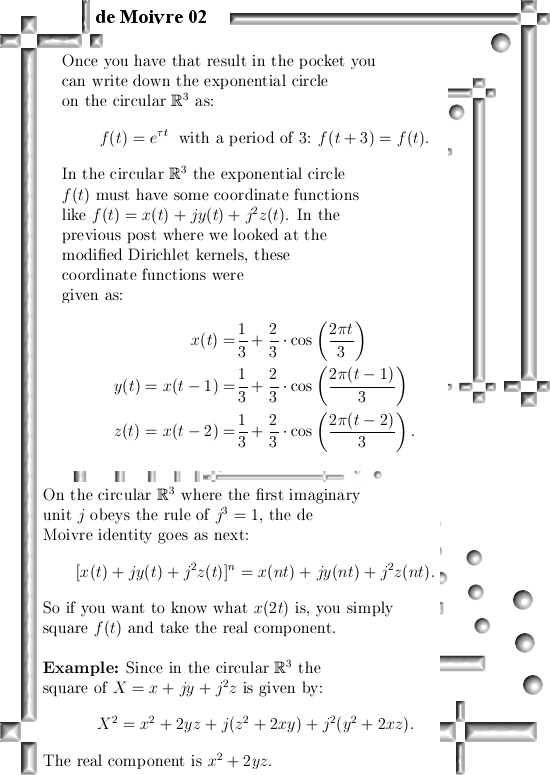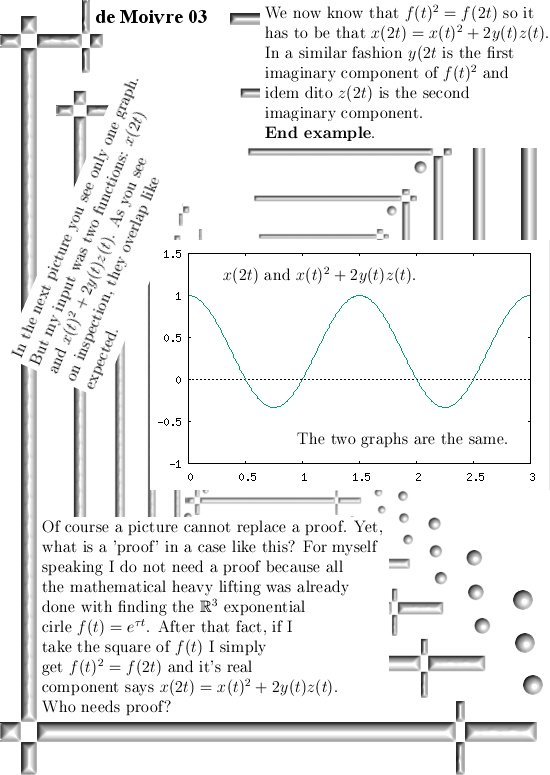 That was it for this post. If I don't change plans, in the next post we will look at the 3D exponential cone because on that cone you can do all those quantum probability calculations just like in the 2D complex plane. But before that I have to go though that horrible PHP update…
So see you in the next post or let's split indefinitely and end this stupid website for no reason at all… 😉