Judge: But you were caught red handed placing the number tau in a Schrödinger equation while you do not qualify for being a member of the most bright and enlightened persons in our society: The PHYSISCS PROFESSORS.
Reinko: But Judge I can explain, it was that evil guy that Gerard 't Hooft who did it. I can prove that because it is on video.
Judge: Yes you already told that into the statements you made after arrest by the police. So we took the freedom and ask Mr. Gerard 't Hooft himself about the evil you have done with molesting the Schödinger equation. Mr. 't Hoofd said it had to be Hermitian and although I do not know what that means he said that by using anti-Hermitian matrices you, Reinko Venema, you are nothing more as some sadistic pedophile piece of shit.
Reinko: But judge, it is not Hermitian, that is only a trick. You see if you multiply it by the number 1 like 1 = – i squared you see it is not Hermitian.
Judge: Do you think we get complex analysis in law school? We don't, we asked some experts and all agreed that Gerard is right and you are wrong and right now rewarded by your own evil deeds to 75 years in prison in a maximum security facility.
__________
After this somewhat strange introduction I repeat I was innocent. I was just looking at a video of a guy that is just like me old and boring.
And that guy, Gerard 't Hooft, was able to give me three nice punches in the face.
That is what this post is about; Three punches in the face as delivered by Gerard.
It is the very first time I observe professional physics professors using the number tau while claiming the stuff has to be Hermitian to make any sense.
I was devastated because in my little world of mathematics it had to be anti Hermitian so at a first glimpse it looks like a simple shootout between Gerard and me: Only one can be right…
Let me first show you the Youtube video where right at the start Gerard succeeds to bring my small sack of human brain tissue into an exited state and after that I am rewarded with finding the number tau into the famous Schrödinger equation.
Let me also temper the enthousiasm a little bit because at present date 26 Feb in the year 2018 I only know of one example where three quantum states are rotated into each other:
That is the transport of the color charges as it is found on the quarks inside the proton and neutron…
Here is the video, after that the nine pictures that make up the mathematical core of this new post:
Gerard 't Hooft – How Quantum Mechanics Modifies the Space-Time of a Black Hole (QM90)
Let me spare you a discussion on the entire video but only look at what you can find on the very introduction as shown above because all of the three punches at my face are already found there.
Here are the nine pictures for this new post: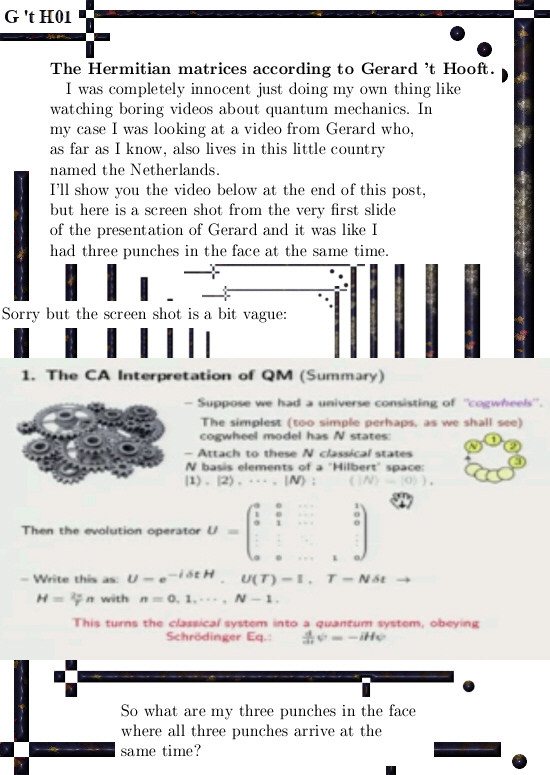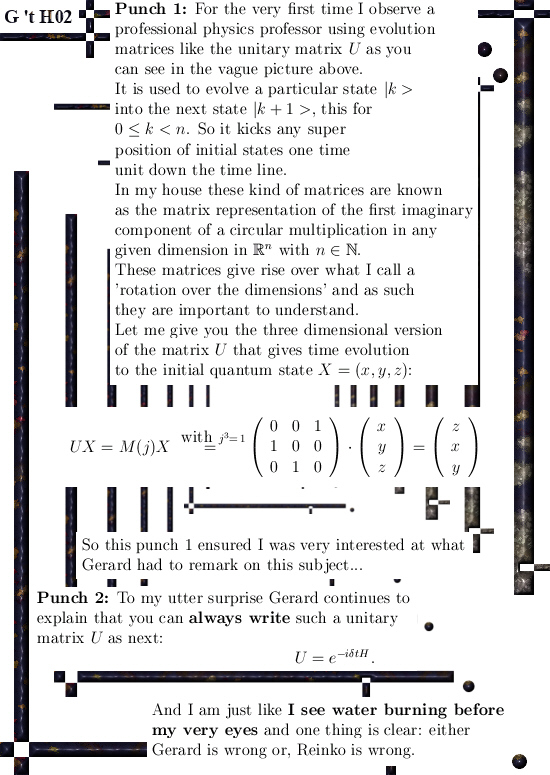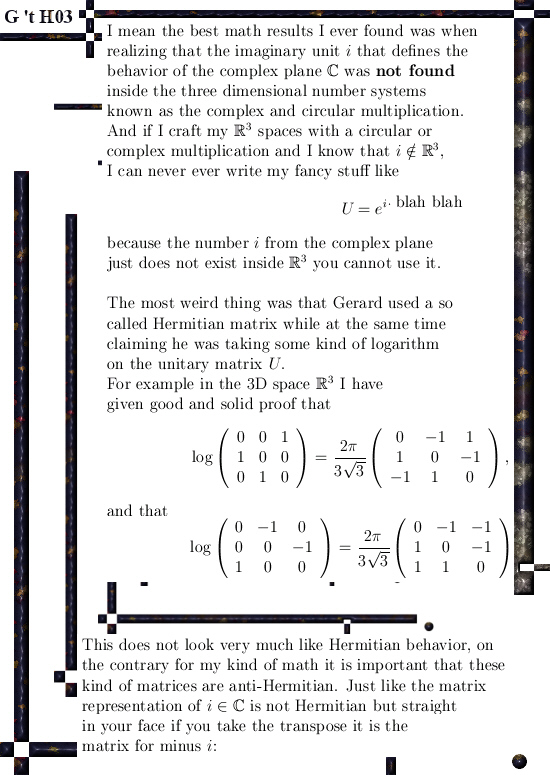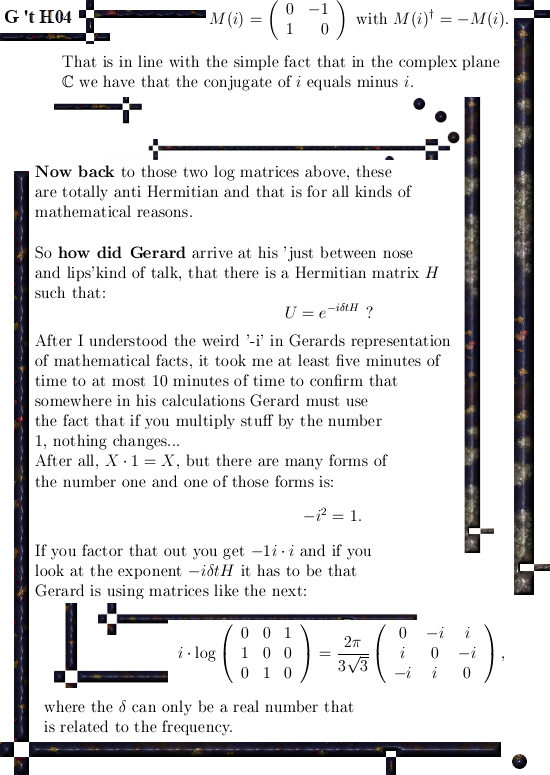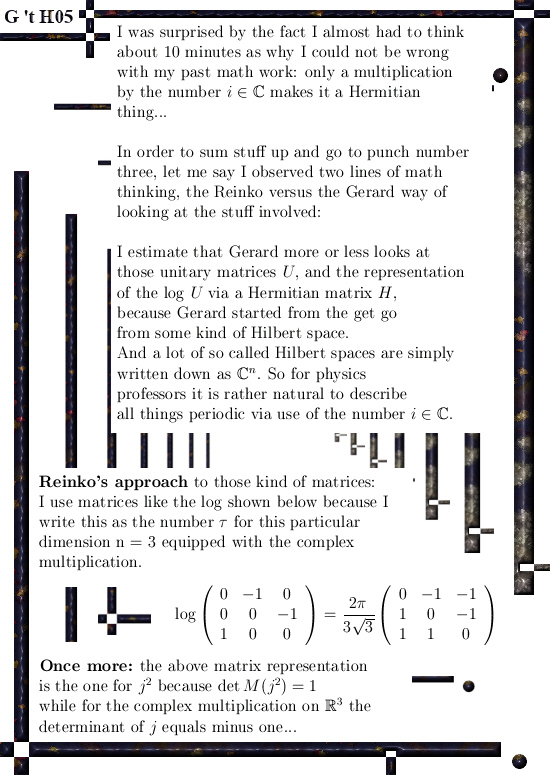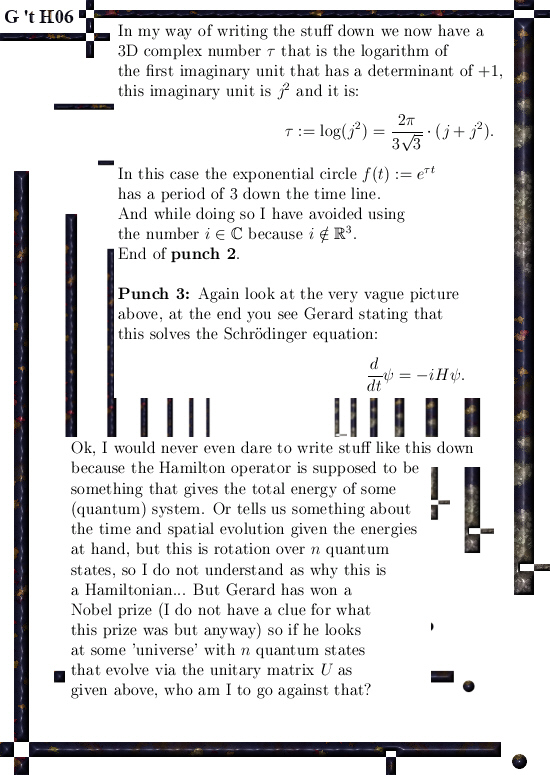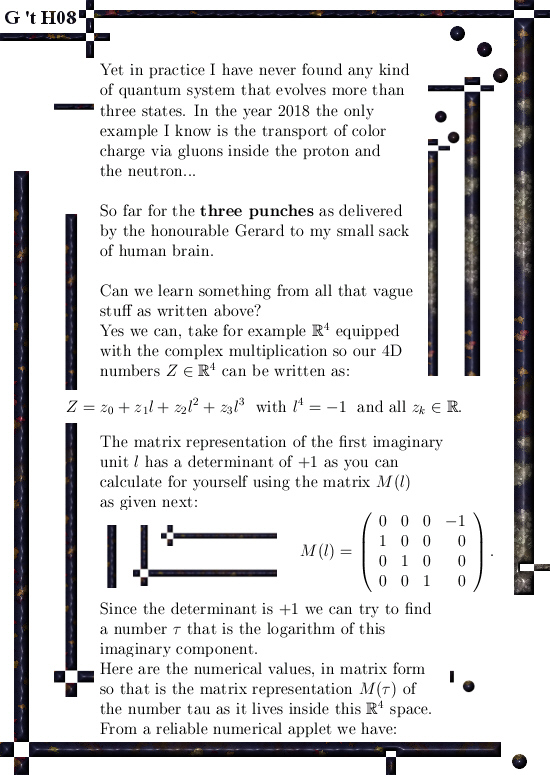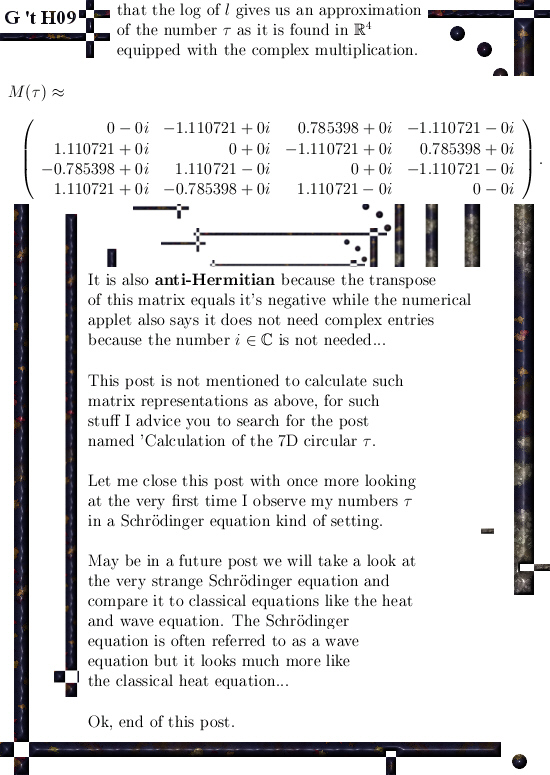 For readers who have found themselves lost on what a Hermitian matrix is, here is a wiki:
Hermitian matrix
https://en.wikipedia.org/wiki/Hermitian_matrix
And for readers who have found themselves lost on finding an 'analytic handle' about how to calculate matrices like in picture 09, a good starter would be about the calculation of the 7D number tau:
An important calculation of the 7D number tau (circular version).
That's it, till updates.