Man oh man, the previous post was from 12 Nov so time flies like crazy. Originally I wanted to write a post on a thing you can look up for yourself: the Dirac quantization condition. I have an old pdf about that and it says that it was related to the exponential circle on the complex plane. Although the pdf is from the preprint archive, it is badly written and contains a ton of typo's and on top of it: the way the Dirac quantization is formulated is nowhere to be found back on the entire internet. In the exponent of the exponential circle there is iqg where q represents an elementary electric charge and g is the magnetic monopole charge according to Paul Dirac. Needless to say I was freaked out by this because I know a lot about exponential curves but all in all the pdf is written & composed so badly I decided not to use it.

After all when I say that electrons carry magnetic charge and do not have bipolar magnetic spin, the majority of professional physics professors will consider this a very good joke. And if I come along with a pdf with plenty of typo's the professional professors will view that as a validation that I am the one who has cognitive problems and of course they are the fundamental wisecracks when it comes to understandig electron spin. Our Pauli and Dirac matrices are superior math, in the timespan of a hundred years nothing has come close to it they will say.

Here is a screen shot of what freaked me out: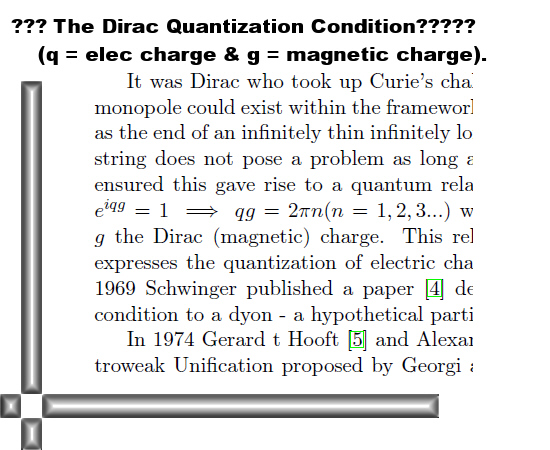 Furthermore I was surprised that the so called professional physics professors have studied stuff like 'dyons'. So not only a Dirac magnetic monopole (without an electric charge but only a magnetic charge), a dyon is a theoretical particle that has both electric and magnetic charge. But hey Reinko, isn't that what you think of the electron? There are two kinds of electrons, all electrons have the same electric charge but the magnetic charge comes in two variants.
There are so many problems with the idea that electrons are magnetic dipoles, but the profs if you give them a fat salary will talk nonsense like they are a banker in the year 2007.
So I decided to skip the whole Dirac quantization stuff and instead focus a bit on factorizing the Laplacian differential operator. I the past I have written about that a little bit, so why not throw in a Google search because after all I am so superior that without doubt my results will be found on page 1 of such a Google search! In reality it was all 'Dirac this' and 'Dirac that' when it comes to factorization of the Laplacian on page 1 of the Google search. So I understood the physics professors have a serious blockade in their brains because this Dirac factorization is only based on some weird matrices that anti-commute. These are the Pauli and Dirac matrices and it is cute math but has zero relation to physical reality like the electron pairs that keep your body together.
No more of the Dirac nonsense! I sat down and wrote the factorization of the Laplacian for 4D complex numbers on a sheet of paper. Let me skip all this nonsense of Dirac and those professional physics professors and bring some clarity into the factorization of the Laplacian.
It took at most 10 minutes of time, it is just one sheet of paper with the factorization. I hope this is readable: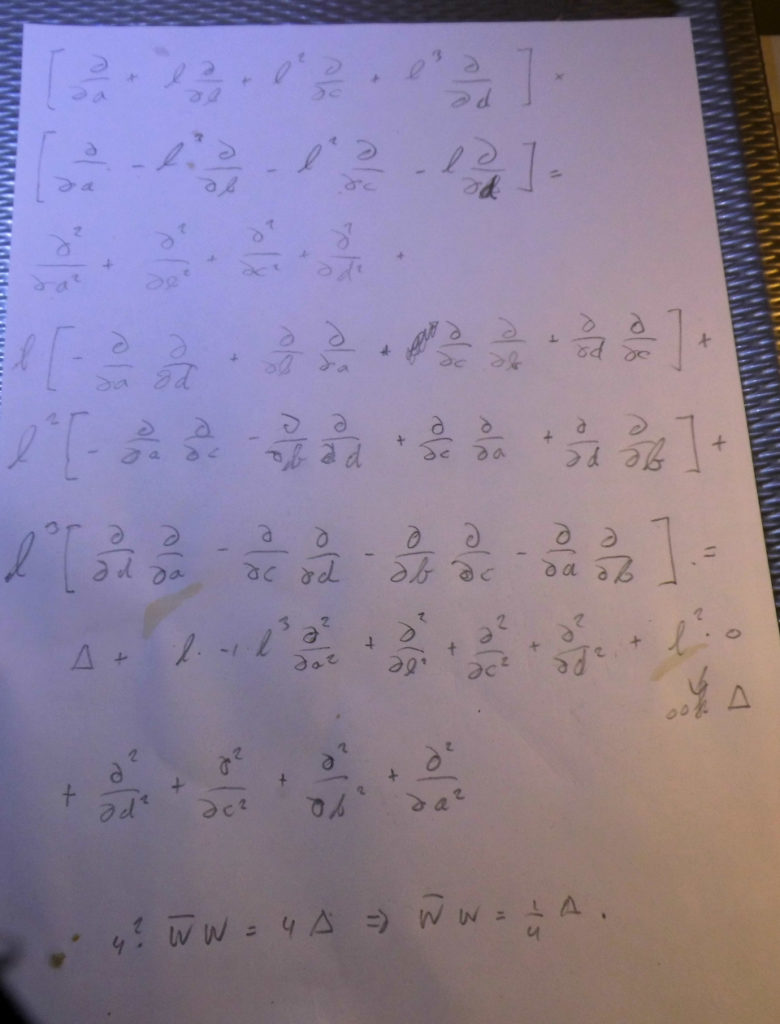 So that is what I have been doing since 12 April, since the last post on this website. I have worked my way through the 2D complex plane, the 3D complex numbers and finally I will write down what did cost me only 10 minutes of time a few weeks ago…
In a few days the post wil be ready, may be this week. If not next week & in the meantime you are invited to think about eletrons and why it is not possible that they are magnetic dipoles.

See you in the next post.